Dit zijn de mode must haves van Inès de la Fressange
Wanneer ons lievelings stijlicoon een collectie ontwerpt, zijn wij er als de kippen bij. UNIQLO heeft wederom een collectie ontworpen in samenwerking met het bekende mode-icoon Inès de la Fressange. Deze collectie is geïnspireerd op Deauville, een geraffineerde badplaats in het noordwesten van Frankrijk waar tout Paris de zomer spendeert. Coco Chanel opende er haar eerste boetiek en de plaats is sindsdien verbonden met mode.
Inès de la Fressange X UNIQLO
Niet zo gek dat Inès graag in Deauville komt. Al op zeer jonge leeftijd ging ze er op vakantie met haar grootmoeder en maakte ze kennis met haute couture. Dit heeft bijgedragen aan haar verfijnde stijl die we nu bewonderen bij UNIQLO. Dit zijn de garderobe essentials waarmee je gerust een capsule garderobe kunt creëeren.
Lange jas met ceintuur

 Immer stijlvol: een lange katoenen jas met een ceintuur in de taille. Je draagt deze jas bijna het hele jaar door voor dat 'je ne sais quoi' gevoel.
Zijde blouse


Zacht op je huid, valt soepel, is vrouwelijk en super veelzijdig. Een zijde blouse mag niet in jouw kast ontbreken.
Black dress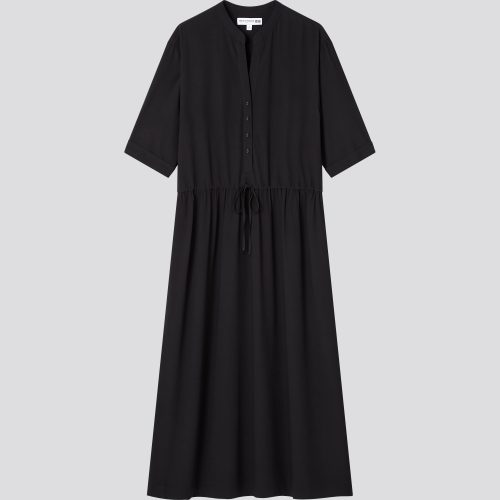 Een zwart jurkje mag niet ontbreken. Met een pump, een laarsje of zelfs een sneaker. Dit exemplaar van Uniqlo is luchtig in de zomer en comfortabel met een laars en een vest in de winter. Wat wil je nog meer?
Gestreepte trui


Een gestreepte trui is een klassieker en misstaat nooit. Met rode lippen of een sjaaltje zie je er beeldig uit.
Klassieke blazer


De blazer is een onmisbaar item wanneer je aan de slag gaat met een capsule garderobe. Voor een casual of zakelijk look: je grijpt nooit mis!
Je shopt de collectie van Inès de la Fressange hier.