Yoga Nidra met Yumeko
Yumeko is een Amsterdams merk voor de mooiste pure en duurzame producten voor in de slaap- en badkamer. Change the World Sleeping. Dat willen ze bereiken met hun collecties van natuurlijke materialen die biologisch en fairtrade gecertificeerd zijn. Dit maakt slapen zachter, gezonder, eerlijker en zonder dierenleed.
Want wist je dat er voor jouw donzen dekbed ganzen leven geplukt worden? En dat beddengoed en matrassen vaak vol chemische gifstoffen zitten? Als je je bedenkt dat je aardig wat uren slaapt, dan is het bijna absurt om hier geen aandacht aan te besteden. Slapen is belangrijk, fijn en we staan er te weinig bij stil. Daarom mochten wij met Yumeko een yoga nidra les ervaren, slaap yoga op een matras van jawel: Yumeko.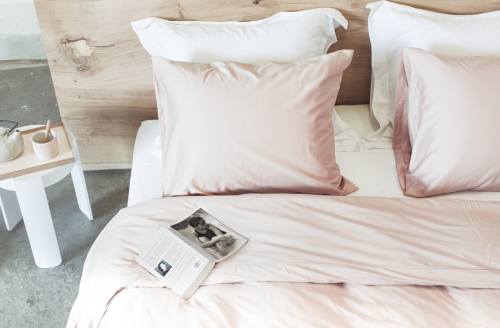 Slaap yoga
Yoga Nidra is een vorm van diepe meditatie en ontspanning waarbij je liggend een stem volgt die je door een meditatie heen praat. Yoga nidra betekent letterlijk: "slaap van de yogi's" maar je mag niet in slaap vallen. Een uur yoga nidra staat gelijk aan vier uur slaap. Het doel? Ontspanning, opladen en het bereiken van een diepe, droomloze slaap en een hoger bewustzijn.
Sliep ik nu of sliep ik toch niet?
Tijdens de sessie mocht ik niet in slaap vallen, volgens mij is dit ook niet gebeurd. Toch kan ik me niet alles herinneren wat er tijdens het uurtje is verteld. Zo zouden we een berg hebben beklommen en tellen tot een bepaald getal. Van dit alles heb ik niks meegekregen, zo gek. Terwijl ik tijdens het afronden van de sessie nog dacht: 'HA! Zie je, ik slaap niet, ik hoor alles'. Na de sessie ben je binnen mum van tijd weer helemaal fris en energiek. Heel fijn. Na de les stonden er heerlijke mocktails en snacks klaar en konden we bijpraten over onze ervaring en over slaap. Ja jongens: we zouden het vaker over slaap moeten hebben, telefoons uit de slaapkamer bannen en dromen onthouden. Daar wordt je leven fijner van.