Pop-up restaurant Staets
Staets is niet zomaar een pop-up restaurant, het is er een die je niet mag missen. De locatie alleen al is een bezoek meer dan waard. Ze zitten namelijk in het imponerende Felix Meritis gebouw aan de Keizersgracht.
En goed nieuws: deze parel blijft nog zeker een jaar zitten dus komt dat zien! De menukaart wisselt regelmatig en gaat dus nimmer vervelen. Er is een klein terras van waar je heerlijk kunt koekeloeren wat er allemaal voorbij komt lopen. Met een kop koffie ('s ochtends) of borrel (in de namiddag) is het hier goed toeven.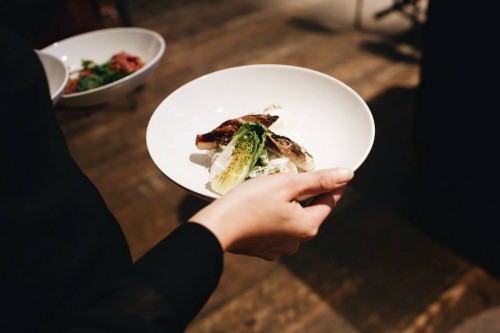 Ook binnen zit je meer dan prima. Het interieur is eenvoudig maar dat gaat niet ten koste van de sfeer. Met openslaande ramen aan de grachten zit je ook in de zomer fijn. En dan hebben we het nog niet eens gehad over waar het uiteindelijk allemaal om draait: de kaart.

Op de kaart staat voor ieder wat wils: een goed stuk vlees, vis of een vegetarische hap. Ieder gerecht is verpakt met bijzondere smaakmakers. Zo kwam de burrata (romige mozzarella) met munt en rode biet en de roodbaars met bergamot en coeur de boeuf. Ook het toetje: karnemelk, witte chocolade, kardemom, sinaasappel en framboos was zalig!

De alleraardigste bediening – want ja, ze zijn echt heel vriendelijk – staat van maandag tot en met zaterdag van 11.00 tot 01.00 voor je klaar.
Kijk voor de meest recente informatie op de Facebookpagina van Staets.