The Loft in Amsterdam is zeg maar je droomhuis!
Het is weer zover. De fictieve bewoner – Mr. Benjamin – verlaat van 22 augustus t/m 6 september zijn loft zodat iedereen hier een kijkje kan nemen. The Loft is een adembenemend pop-up appartement waar je alles ter plekke kunt kopen of gewoon een kop koffie kunt drinken.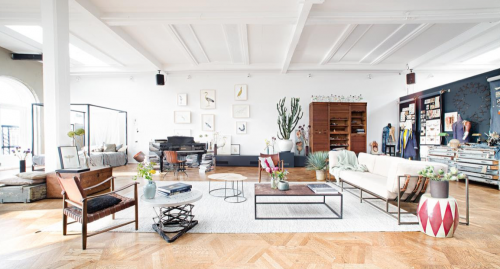 De lichte ruimte met plafondhoge ramen in het Cristofori gebouw aan de Amsterdamse Prinsengracht is een boeiende plek bomvol wooninspiratie. Een interieur verteld vaak veel over de bewoner. Vandaar ook de fictieve bewoner Mr. Benjamin. Zijn authentieke, luxe en duurzame stijl past bij het leven van een bereisde, wijze kunstenaar maar wellicht ook in jouw interieur. Omdat alles perfect gestyled is kun je de prachtige losse objecten beter plaatsen.
Je koopt er spul van Marie-Stella-Maris voor in de badkamer tot tapijten van Ode-to-A of zelfs een nieuwe bank.
The Loft is van dinsdag tot en met zondag geopend van 10:00 – 18:00 en op zondag van 12:00 – 18:00.
Hou de facebook pagina in de gaten voor meer informatie!