Hotspot Alert | Tramrestaurant Hoftrammm Den Haag
Say hi to Tramrestaurant Hoftrammm. En óf dat precies is wat je denkt dat het is. Een restaurantconcept in een heuse tram. Voor als je culinair eens voor iets compleet anders wil gaan. Voor een out-of-the-box setting en spectaculair, bijna-Michelinster menu. Begin je al spontaan te watertanden? 
Tramrestaurant Hoftrammm, uniek in haar soort
In 2014 heeft de knappe Haagste tram '3035' een metamorfose tot rijdend restaurant gekregen, de eerste van Nederland. En leuk dat het is! Drie jaar daarvoor liep Bobby van Galen – founder en eigenaar – al globetrottend tegen een soortgelijk culinair concept aan. Een originele mix van uit eten en reizen in één. Een idee dat 'm niet losliet. De horecaman moest en zou dit concept op de trambaan in Den Haag krijgen. En wat als dagdroom begon, werd na drie jaar realiteit dankzij een succesvolle crowdfundingsactie. Het doorzetten werd beloond!
Verrassend 4-gangendiner van Pierre Wind
Tot zover een kleine throwback hoe tramrestaurant Hoftrammm tot stand is gekomen. Voor zo'n 2,5 uur kan je er lekker voor gaan zitten, en word je door onder andere Voorburg, Den Haag en Scheveningen gereden. Elk moment van de rondrit een ander uitzicht. Be prepared voor het nodige bekijks dat je al tourend door de (binnen)stad trekt. Zo grappig!
Wordt met een feestelijk aperitief welkom geheten, en laat je in de watten leggen door een supergoed 4-gangendiner met bijpassend wijn-, Haags speciaalbier of non-alcoholisch arrangement. Over dat menu gesproken. De kook- en praatgrage topchef Pierre Wind heeft als Executive Chef met ziel en zaligheid culinaire hoogstandjes samengesteld. Want dat zijn ze met verve.
Waar je zoal aan kan denken? Van pasta Bolognese in pilvorm (!) tot basilicum pana cotta met ei dat geen ei is, gevogelterouleau met rendangragout en earl grey bokkenpoot met matcha bavarois. Op de scorekaart van originaliteit regent het negens en tienen. Ga je liever voor vega(n) creatieve uitspattingen of heb je een ander dieet? Laat het van tevoren weten, en de keukenbrigade zorgt ervoor dat het een culinaire knalfuif voor je wordt.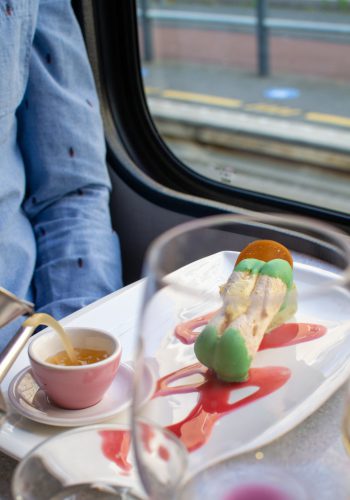 Lang verhaal kort, deze Haagse hotspot is zeker de moeite waard. Oké eerlijk is eerlijk, je betaalt wel wat voor het all-in arrangement (€85,- en per 1 september €89,50), maar dan heb je ook echt een onvergetelijk lekkere avond uit, waarbij alles tot in de perfectie klopt. Smaakt naar meer? Reserveer hier je coupéspot.
Tramrestaurant Hoftrammm
Stationsplein 3, Voorburg
Instagram | Facebook | Website