Een staycation midden in Amsterdam mét strand bij hotel Sofitel Legend The Grand
Voor wie z'n vacation nog niet geboekt had voor deze zomer en op zoek is naar de ultieme plek om eindelijk zijn welverdiende rust te gaan pakken, is dit de gouden tip. In het hart van Amsterdam is het luxe Sofitel Legend The Grand gevestigd en dit is veel meer dan just another hotel.
Schitterend gelegen aan de Amsterdamse grachten waan je je in een andere wereld. Precies wat wij nodig hebben dit jaar! Even weg… maar niet té ver. Hotel 'The Grand' is gehuisvest in het voormalige stadhuis en heeft sinds de 15e eeuw verschillende functies geherbergd, zoals een klooster, een admiraliteit en een stadhuis. Het hotel is nog steeds bekend om zijn 'Raadszaal' waar in 1966 het huwelijk van de voormalige koningin, Prinses Beatrix, werd gesloten. Sinds 1992 is het een hotel. Een beeldig en elegant hotel met alle luxe die een mens zich kan veroorloven. En een romantische tuin, wat dan weer uniek is in Amsterdam! De perfecte plek om te ontsnappen aan de alledaagse sleur en om jezelf onder te dompelen in luxe.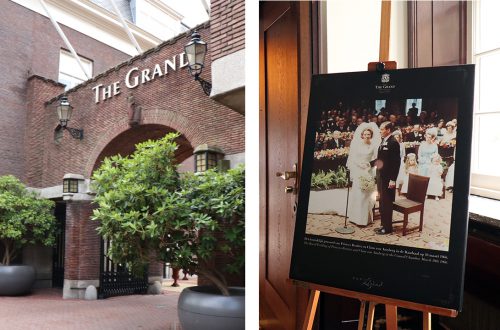 De zalen hebben prachtige muur- en plafond schilderingen en unieke glas-in-loodramen. Het hotel is dan ook een Rijksmonument in een modern jasje. Tijdens je verblijf kom je niks tekort. Zo kun je een hapje eten bij Bistro Oriole of het iets luxere en bekroonde visrestaurant, Bridges. Ook de afternoon tea is niet te versmaden, the best! Net als het ontbijt… waarvoor je in het groene Oriole plaats neemt. Op de kaart vind je verschillende soorten bereidingen van ei, wafels, pancakes… eigenlijk alles wat je maar wilt.
Hotel Sofitel Legend The Grand Amsterdam telt verschillende luxe kamers en suites die stuk voor stuk onberispelijk en verfijnd zijn ingericht. Ruim, voorzien een grote badkamer mét ligbad en luxe bedden opgemaakt met fris linnen.
Om het staycation gevoel compleet te maken is de binnenplaats van 'The Grand' omgetoverd tot The Grand Beach. Een soort van St. Tropez maar dan in eigen land. Al toevend op een zandstrand nip je aan een rosé uit de Provence vergezeld door een oestertje. En nog geweldiger: tijdens de Piper-Heidsieck Cinema Nights drink je de hele avond champagne met een bak popcorn ernaast en welja, weer een oester! Wij noemen dit ook wel de geneugten van het leven.