GANT Tech Prep collectie met slimme stoffen
GANT, dit kledingmerk, stipten we eerder al aan omdat ze zich bezig hielden met een Flipternship, maar is het waard om nog een keer genoemd te worden. Dit merk geeft je de hele dag het gevoel dat je je fris en vrij voelt door het gebruik van speciale innovatieve materialen. De Tech Prep™-artikelen zijn gemaakt van slimme stoffen waardoor de items ademend en vochtafdrijvend zijn. Eerder al (2017) kwamen er slimme overhemden van GANT op de markt maar dit jaar is de collectie uitgebreid.
Zo is er voor dames een kreukvrij overhemd, onmisbaar in je kast! Dit overhemd met een klassiek streepje, een beetje oversized en afhangende schouders is áltijd goed. Of je nu op je werk moet verschijnen, een flitsende presentatie moet geven of gaat flaneren over de boulevard om vervolgens met een gondel opgepikt te worden waarop je eindeloos met vriendinnen borrelt. You've got this.
In mijn kast hangt altijd een een verzameling van zwevende niets-om-het-lijf overhemden. Het gestreepte Oversized Broadcloth overhemd van GANT past hier goed tussen en is voor de liefhebber verkrijgbaar in vier kleuren. Door de Tech PrepTM Kwaliteit weet je niet wat je meemaakt want met behulp van performance stoffen met verborgen voordelen blijf je de hele dag koel en comfortabel. Zelfs als je een spannende presentatie geeft, je je moet haasten naar je werk of op vrijdag nét iets langer blijft hangen op een VRIJMIBO. De blouse gewoon áltijd goed. Het liefst draag ik het overhemd op een jeans met daaronder een zwarte pump maar in de zomer staat deze blouse ook knap op een witte broek en met een blauwe pantalon eronder is ook niks mis!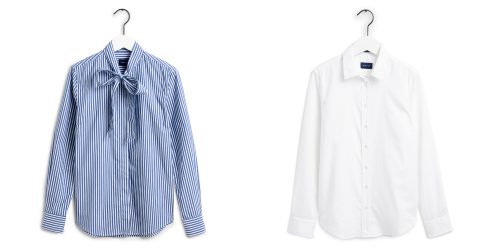 Voor vrouwen zijn er 10 items en je shopt de Tech Prep overhemden online bij GANT.