Onderkin? Zo kom je er snel vanaf
Vroeger hoorde je bijna niemand klagen over een onderkin. Tenminste, de klagers waren minimaal de 50 gepasseerd of erfelijk belast. Vaak is het dan een kwestie van je spieren of huidverslapping door ouderdom. Daar valt niks meer aan te doen, tenzij je onder het mes gaat. Losse huid krimpt namelijk niet, zelfs niet door de duurste crèmes.
Aan alle (nog) niet yogi's: dit is hoe yoga mijn leven veranderde.
Vandaag de dag is er echter een heel andere groep die klaagt over de dubbele kin aka de 'Tech Neck'. Deze laatste term wordt gebruikt door specialisten om onderkin verschijnselen na aanleiding van technologie te omschrijven. Je hoort het goed. Steeds meer jonge mensen hebben hun onderkin te danken aan de apparaten die ze gebruiken. Niet zo gek wanneer je je bedenkt dat je jouw hoofd alsmaar naar beneden buigt. Als je niet achter de computer zit, duik je met je neus in je smartphone of Ipad. Je perst je kin langdurig in een hoek van 45 graden en dat zorgt ervoor dat de toch al kwetsbare huid het zwaar te verduren heeft. Net als onder de ogen is de huid in de nek heel dun en aangetast door de zon. Herhaaldelijk je hoofd buigen zorgt voor meer rimpels en minder strakke nekspieren.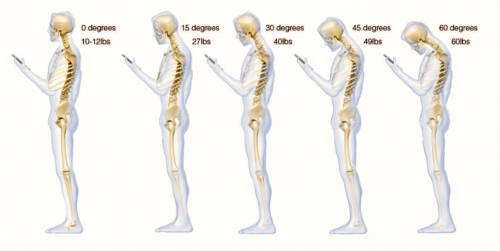 Gelukkig is hier iets aan te doen! Neem regelmatig afstand van je computer of smartphone en neem een paar minuten de tijd voor deze oefeningen:

Volle lippen op een natuurlijke manier? Dat kan met BioLips!