Stop met onnodig excuses maken!
Dagelijks hoor je de woorden "sorry" of "het spijt mij" uit je mond rollen. En waarom? Omdat het hoort. Juist ja, vandaag de dag gaan we ervan uit dat het woordje "sorry" heel wat goedmaakt en bij onze normen en waarden past. Onzin!
Toch excuseren (vooral) vrouwen zich regelmatig uit beleefdheid. "Sorry mag ik naast je komen zitten?" in de trein en "Excuseer mij, mag ik er even langs?" als het druk is of "Sorry, mag de muziek wat zachter?" wanneer iemand de volumeknop helemaal open draait. Allemaal drogredenen om excuses te maken. Want waarvoor excuseer jij je eigenlijk?
In feite ontkrachten deze excuuswoorden wat je echt wilt zeggen. Het is opvulling, een betekenisloze toevoeging aan jouw zin. Dus stop met sorry wanneer het niet nodig is. Om maar wat voorbeelden te noemen: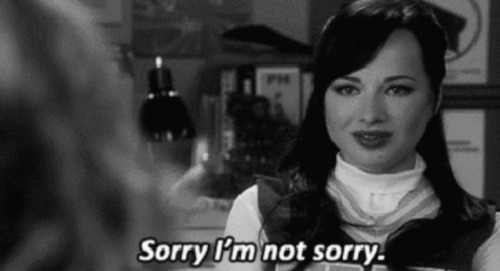 We gebruiken sorry regelmatig voordat we onze mening geven of iets vragen. Dit is een passief-agressieve vorm om jezelf te uiten wat betekent: je voelt je onzeker maar projecteert dit gevoel op een ander.
Zodra excuses over jouw lippen rollen kom je als vrouw onderdanig over. Alsof jouw mening niet telt en eigenlijk niet gehoord mag worden! Dit was misschien eeuwen geleden zo, tegenwoordig zijn vrouwen scherp op de tong.
Sorry is niet hetzelfde als een andere mening hebben of de zin "mag ik iets vragen?". Als jij steeds met het woordje sorry strooit verliest het zijn waarde. Sorry is alleen op zijn plaats als jij oprecht ergens spijt van hebt.
Het 'bedriegerssyndroom': wat het is en wat je eraan kunt doen.
Stop er dus mee! En dat gaat niet eenvoudig. Slechte gewoontes leer je nu eenmaal moeilijk af. In het vervolg let jij op jouw woorden en ga je bijhouden hoe vaak je sorry zegt. Probeer dit zo min mogelijk te doen! Breng familie en vrienden op de hoogte zodat ze je corrigeren als je je weer eens laat gaan. Sorry, dit gaat niet eenvoudig worden!
Volg ons ook op Instagram!