Droge lippen en velletjes door dit weer? DIT moet je doen!
Ook zo'n last van droge of gebarsten lippen? En ga je dan ook altijd je velletjes van je lippen trekken of bijten? Well, you're not the only one! Het komt door de overgang van warm naar koud weer. Daarnaast helpt de CV-ketel ook niet mee, hierdoor onstaat droge lucht in je huis. En tja, we vergeten maar al te vaak onze lippen te verzorgen.
Wat je vooral niet moet doen:
-Je lippen vochtig maken, dit helpt averechts.
-Je velletjes eraf bijten, ik hoef niet te zeggen dat je hier wondjes van krijgt?!
Wat je vooral wel moet doen:
-Veel water drinken! Dit doen we allemaal heel goed als het lekker warm weer is, maar zodra het kouder wordt vergeten we de 1,5 liter. Droge lippen en alle voorkomende uitdroging van de huid duidt letterlijk op uitdroging.
-Ook bepaalde vitaminen kunnen helpen, zoals B2 deze is goed voor haar, nagels en huid. Vitaminen B2 zit vooral in melk en melkproducten, maar ook in vlees, fruit en groente. Kom maar door met de broccoli!
-Je lippen insmeren met baby olie, na een minuutje met een tissue zachtjes eraf halen.
-Scrubben!
-Lippen insmeren met zachte balsam (vooral voor het slapen).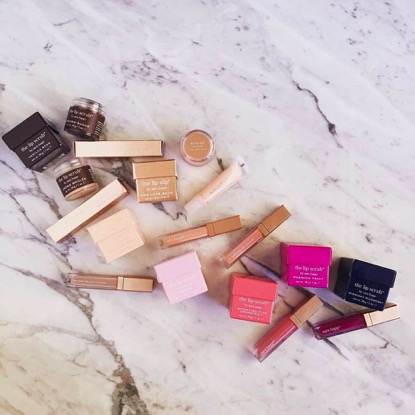 Wie van suiker en lekkere geuren houdt, houdt ook van Sara Happ! Sara Happ lipscrub verwijdert niet alleen de droge en schilferige velletjes maar maakt de lippen meteen fluweel zacht. Ze zijn direct gehydrateerd en de scrub laat een vleugje zoetheid achter! Denk maar aan de smaken crèmebrûlée of pink grapefruit, loopt het water al door je mond?
Al haar scrubs zijn gemaakt van suiker en daardoor dus "organic" en niet getest op dieren!
Celebrities Als Reese Witherspoon, Katie Holmes, Jessica Alba en Kate Hudson (om er een paar te noemen) behoren tot de klanten van Sara Happ.
Voor de perfecte verzorging: Scrub zachtjes je lippen, veeg het af met een tissue en smeer daarna je lippen in met een balsem.
Voor iedereen die een Sara Happ lippscrub bestelt bij www.real-skin-care.com ontvangt gratis een Hurraw Lippen Balm!