Voor op je als-we-weer-mogen lijstje: Vegan pizzeria Mastino
Zeg eens, Is er ooit een avond dat je geen zin hebt in Italiaans? Dat Italianen weten wat lekker is, dat is een ding dat zeker is. Dat de Italiaanse crew dat bij pizzeria Mastino in de Amsterdamse Pijp ook weet, is net zo'n zekerheid. Pizza's die de liefde voor het land van de laars ademen, alleen dan zonder vleesch noch visch noch ander dierlijks. Het is la dolce vita bij Mastino. 
Mastino: pizza's met een sustainable shine
Alsof je zojuist je Italiaanse familie waarvan je niet wist dat je het had, hebt leren kennen. Binnenkomen bij plantaardige pizzeria Mastino voelt als een flitsbezoek aan het beeldschone Italië. Iets wat mede mogelijk gemaakt wordt door de aanstekelijk enthousiaste, super sympathieke Novella, de eigenaresse. Gooi er een kwartje in (I know guldentijd, maar geen idee hoe je het beestje anno nu bij de naam noemt, u snapt) en er komt drie euro uitrollen. Gezellige klets is het met haar Italiaans-Engelse accent. We like!
Als Italiaanse weet Novella hoe 'het' heurt. Kom niet aan de traditionele deegwaren van di mamma, want dan raak je hen diep. Heel diep. Toch wist ze back in the days dat het goed zou zitten met haar idee om Neerlands eerste vegan pizzeria te openen. Pizza's gemaakt met net zoveel amore (voor mens én dier) en respect voor de Italiaanse cucina. Verrassend is het dan ook niet dat er bij de entree de spreuk 'Your body belongs to you' hangt.
Vegan steenovenpizza's met traditionele touch
De wederhelft toen we onderweg naar onze pizzadate station waren: 'Maar pizza's met alleen maar groenten en plantaardige kaas, weinig comfort food-ish aan, toch?' Toegegeven, die snappen we hoor. Maar na de eerste paar happen was de vriend (en ondergetekende met hem) al om en werd vleesch nog visch niet gemist. Precies wat de Mastino'ers voor ogen hebben: benadrukken dat pizza geen vlees of zuivel nodig heeft om uitstekend te zijn. Een straf om bij Mastino te pizza'en (werkwoord, want blijft hard werken) is het allerminst.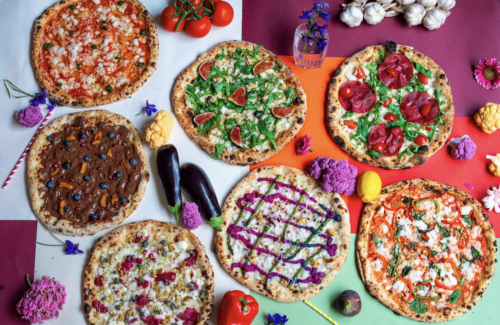 Alle pizza's zijn royaal belegd met veel kleurrijke groenten, plantaardig vlees en vegan kaas. Kaas van koeien kopiëren naar een plant-based variant vinden we wat hoog gegrepen (it's à thing), maar hier weten ze van linzen verrassend goed iets te maken dat bijdraagt aan het hoge gehalte comfort food. Op het menu klassiekers en meer: van pizza Amore tot Don't Call Me Pepperoni, The Big 4 en Bella Ciao. En ook aan de antipasti en dolci is gedacht.
Eén stap binnen en je weet dat het goed zit. Over dat zitten. Ze hebben slechts rond de acht plekjes (in tijden dat tante Corrie het weer toelaat). Betekent er snel bij zijn. En anders wordt het bestellen, een kletspraatje met Novella maken over haar persoonlijke gallery wall en thuis op de bank je moment pakken.
Het auberginekleurige pandje kan niet missen. Laat je verleiden en doe de over-smaak-valt-niet-te-twisten test! Locatie: Eerste van der Helstraat 78h.