Dutch design talent: Sophie Hardeman
Nederland is een klein land waar veel talent vandaan komt. Er zijn best wat Nederlandse knappe koppen die zelfs in New York hun kunsten vertonen. Zo vloog make-up artist Mitzy Malu Mudde naar New York om daar tijdens de Fashion Week modellen mooi te maken en Jitske Nap fotografeerde verschillende shows waaronder die van de eveneens Nederlandse Sophie Hardeman.
De aan de Rietveld Academie afgestudeerde modeontwerpster Sophie Hardeman showde dit jaar niet voor het eerst op de New Yorks Fashion week en dat vinden wij knap. Haar ontwerpen zijn verre van gewoon en normale kledingstukken worden uit proportie getrokken. Voor haar collecties recyclet ze denim en creëert hier stukken mee die veel verder gaan dan jeans of kleding. Het is eerder een soort van kunst. Ook met haar modellen maakt ze een statement, ze kiest verschillende types die jan en alleman presenteren. De laatste show was dan ook geen traditionele show, maar een installatie waarbij modellen in het rond liepen, over de grond rolden en op strobalen zaten. Best rebels dus.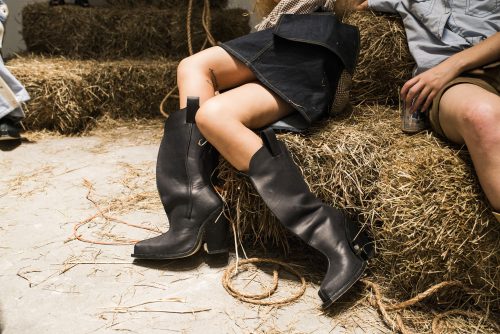 Fotocredits: Jitske Nap
Kijk ook op de website van Sophie Hardeman of Jitske Nap.