Wil je meemaken: slapen in bijzondere bestemmingen van Heilige Nachten
Er zijn plekken voor een nachtje (of twee) weg en er zijn spot-on plekken waar je zo zou kunnen intrekken. De bestemmingen van het concept Heilige Nachten vallen in de categorie 'nicht nar haus zu gan, nicht nar haus zu gan.' Sinds juni hebben ze een 400 jaar oud kerkje door MADE.COM laten stylen. Vroegen ze of we een retourtje Frieslân zagen zitten. Wa denkte gij, iemand moet het doen hè!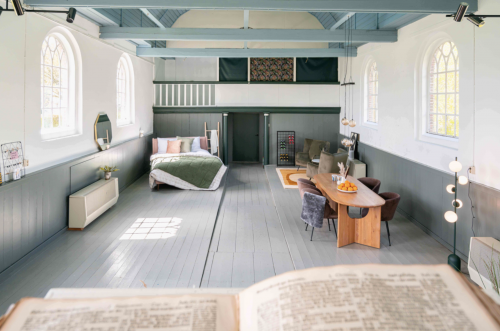 Slapen in knappe kerken van Heilige Nachten
Toegegeven, het initiatief Heilige Nachten kenden we nog niet. En nu we het kennen, willen we het het liefst niet doorvertellen, want wat is het leuk! In het kort: Nederland kent veel historische kerkjes die leegstaan (komende jaren komen daar nog honderden bij) of slechts deels voor (kerkelijke) activiteiten worden gebruikt. Heel zonde als je je bedenkt dat het royale ruimtes met veel cachet zijn. Vonden ze bij Heilige Nachten ook en dus doen ze er alles aan om nieuw leven in de kerk te brengen. Hoe? Door de kerken te upgraden tot uniek slaapvertrek en daarmee leegstand en verval voor te zijn, en de vaak eeuwenoude verhalen te bewaren.
.   
Heilige Nachten biedt, it's all in the name, onvergetelijke overnachtingen in knappe kerken aan. Aan ons de schone taak om Kerkje 1621 x MADE.COM omringd door de Friese binnenlanden in Hoornsterzwaag te testen. Boek je dit, dan krijg je potdikke een heel kerkje wat een dag lang yours is. De entree is indrukwekkend. Waar je namelijk een oud gebouw binnenwandelt, is het interieur dankzij het go to meubelmerk van drie zinnen terug zo eigentijds als het zijn kan. Geen uitdaging te groot voor onze styling vrinden, zo blijkt maar weer. Van spring-en-verzuip-erin bed tot blauwe velvet bank, ovale houten tafel en een picture perfect kleurenpalet. Hier wil je zijn, hier wil je wezen.
Shout-out naar host Rudolphine die een ontbijt op tafel toverde om u tegen te zeggen. Het was dat het vakantie was anders hadden we ook zeker een borrelplank aan huis besteld. Aw ja, en je wil ook nog iets van de omgeving proeven? Als je er dan toch bent, schuif dan aan bij restaurant Lyf's in Beetsterzwaag (omdat beeld meer zegt dan duizend woorden, zie de foto's voor een eerste indruk), duik één van de beeldschone natuurgebieden in, of slenter door de pittoreske dorpjes.
Ook een overnachting in Kerkje 1621 x MADE.COM of één van de andere accomodaties, ga dan naar HeiligeNachten.nl en maak prachtige herinneringen.