Leopard print: onmisbaar in jouw kast
We've never met a leopard we didn't like! We krijgen nooit genoeg van dit wilde printje. Jassen, jurken, rokjes of broeken, het maakt ons niet bang! Sterker nog: hoe meer leopard hoe beter! Ook tijdens de feestdagen is deze prachtige print niet meer weg te denken. Of je nu gaat wandelen in de bossen of op een sjieke partij verschijnt, de leopard print wil in jouw kast!
Al zijn de meningen nog steeds verdeeld want is zo'n print nou trashy of classy? Iedereen weet dat de print trendy is en dat is eigenlijk altijd al zo geweest. De luipaard was altijd al ergens sluimerend op de achtergrond aanwezig. Het ligt altijd op de loer om toe te slaan en vervolgens ben je hooked. Komt het door de wilde uitstraling, of het onbetwistbare seks-appeal. Ja. Er is een ragdunne scheidslijn tussen classy en trashy maar je wilt het wel!
All the way
Wil jij de show stelen? Ga dan volledig gekleed in de leopard print. Met deze lange jurk heb je altijd een eyecatcher in de kast hangen. In de zomer perfect met een slipper en beach hair. Tijdens de feestdagen draag je deze jurk met een hoge pump en rode lippenstift. Je snapt zelf ook wel dat niemand anders aan jouw outfit kan tippen!


Jurk Marc Cain via Jeroen Beekman
Leopard luggage
Ben je niet zo van overdaad? Dan kun je nog altijd een leopard print accessoire overwegen. Met deze clutch heb je in ieder geval een mooie binnenkomer en omdat het zo mooi is houd jij hem de hele avond stevig vast!


Clutch Prada via MyTheresa
Loop er mee weg
Een leopard broek kan altijd. Maar dan ook echt áltijd. Het fijne is dat deze suede-achtige broek super comfy zit. Combineer de broek met een gebreide trui en stoer laarsje voor een stoere look of met een sneaker voor een sportievere uitstraling. Oh en met killer heels eronder ben jij de godin van de jacht!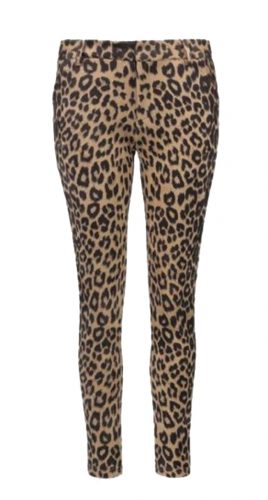 Broek via My Jewellery
On top
Coltruien zijn hot. Coltruien met een leopard print nog hotter! Blondie was er wild van en Pat Benatar ging ook wel goed in tops met een leopard print. Op een jeans, pantalon of rokje, het kan allemaal. Stay wild baby!


Coltrui Jane Lushka via Jeroen Beekman