Deze plek moet je indrukken om menstruatiekrampen te verminderen
Die maandelijkse menstruatie hé, dat hoeft dus helemaal niet zo pijnlijk te zijn. Veel vrouwen ervaren iedere maand helse pijnen omdat ze ongesteld zijn. Zelf lig ik minstens twee dagen in de kreukels en word ik midden in de nacht wakker van de krampen. Niet fijn maar ook niet veel aan te doen… Of toch wel? Er zijn hulpmiddelen die ervoor zorgen dat de pijn stukken dragelijker wordt.
Zo slik ik omega-3 supplementen en Advil Feminax indien nodig. Ik skip nooit m'n yogales en maak als het lukt in rap tempo een ommetje. Juist beweging zorgt ervoor dat de krampen minder worden. Als je niet beweegt, houd dan in ieder geval je buik warm met een kruik of neem een warm bad. Dit ontspant de baarmoederspieren. Magnesium slikken is ook het proberen waard! Toch is er nog een ding waar ik nog nooit van gehoord had: doe-het-zelf acupressuur.
Acupressuur
Als je hoofdpijn of buikpijn hebt, wrijf je vaak intuïtief over deze plekken. Dat doe je niet zomaar want wrijven en drukken vermindert de pijn. Dit drukken en wrijven heeft een naam: Acupressuur. Acupressuur is verwant aan acupunctuur en het betekend: puntdrukken. Overal in het lichaam zitten meridianen, ook wel energiebanen genoemd. Deze worden soms geblokkeerd en dit kun je verhelpen door de meridianen te stimuleren. Hierdoor worden afvalstoffen beter afgevoerd en verdwijnen sommige klachten als sneeuw voor de zon. Het specifieke drukpunt om menstruatie klachten te verhelpen noem je ook wel San Yin Jiao oftewel: SP6, spleen 6. Dit drukpunt bevindt zich aan de binnenzijde van je onderbeen, net boven de enkel. Plaats je vingers op dit drukpunt en masseer het gebied ongeveer 5 seconden, als het goed is verminderen de klachten in je onderbuik. Wonderbaarlijk! Is het niet? Je gaat er trouwens ook minder van piekeren, krijgt een betere huid, stimuleert de spijsvertering en het helpt tegen problemen bij het plassen. Doe dit trouwens niet als je zwanger bent! Want San Yin Jiao kan leiden tot een miskraam.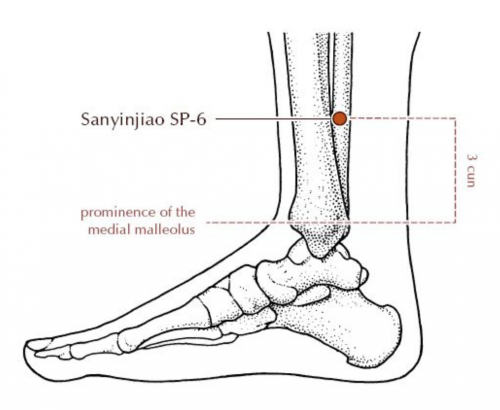 Lees ook: deze reclame moet het taboe rondom je menstruatie verminderen.