INK Hotel & PRESSROOM
In een historisch pand aan de Nieuwezijds Voorburgwal, waar vroeger de Nederlandse krant 'De Tijd' gevestigd zat, zit nu het prachtige INK Hotel van de MGallery Collection. In het hotel vind je allerlei bijzondere, leuke verwijzingen naar de levendige, journalistieke geschiedenis en de verhalen die hier dag in dag uit werden geschreven. Vandaar ook de naam INK. Het bijbehorende restaurant heet ook niet voor niets PRESSROOM.

Lees ook: Dit is hoe een stralende lach je aan de man kan helpen.
Ik heb een nachtje geslapen in dit perfect gelegen hotel hartje centrum. Het is geen geheim dat ik graag toerist in eigen stad ben en dit hotel deed mijn hart sneller kloppen vanaf het moment dat ik binnen kwam. De liefde zit 'm in de details. Van de rode chocolade hartjes op mijn kussens, tot de prachtige, luxe, wit marmeren badkamer met gouden details en van de 'complimentary' stroopwafels, tot de fantastische muur met tekeningen en teksten van Jan Rothuizen. De tekeningen zijn een 'zachte atlas', die het verhaal van het hotel en de stad vertellen. Zo wordt er bijvoorbeeld uitgelegd wat de Hema nou precies is, handig voor toeristen, en beschrijft Jan persoonlijke herinneringen uit zijn kindertijd aan de stad.


In de kamer staat een ouderwetse, zwarte telefoon, op het notitieboekje staat 'write your own story', wat zo ongeveer mijn levensmotto is en het hotel biedt 'Memorable Moments' aan: activiteiten die je kunt boeken, zoals 'time travelling by bike': een tijdreis door Amsterdam op de fiets. Hoe leuk?! Het INK Hotel voelt als een tweede thuis en je vergeet zodra je binnenloopt helemaal dat je midden in de stad bent.


Bij restaurant PRESSROOM kun je genieten van gerechten op topniveau. Wij zaten te watertanden bij een taartje van zachte tonijn, watermeloen, macadamia, Tom Ka Kai, gember, ponzu & koriandermayo en dronken heerlijke wijn. We waren de laatsten die het restaurant verlieten, dus dat zegt genoeg! PRESSROOM is ook een gezellige plek voor een latte & laptop sessie of cocktails in de avond. Tijdens mijn ontbijt stond er een violist in de gang muziek van Yann Tiersen (Amélie) te spelen…. Do I need to say more?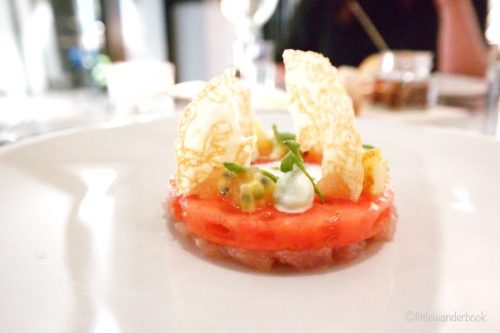 Kijk voor meer foto's op www.littlewanderbook.com
Je kunt Little Wanderbook ook volgen op Instagram & Facebook!