De impact van beautyproducten & parabenen op de hormoonhuishouding
Een hormoonhuishouding die uit balans is zorgt voor veel ongemakken. Je hormonen hebben invloed op allerlei kwalen zoals PMS, Acne, vermoeidheid, moodswings, een onregelmatige menstruatie of zelfs onvruchtbaarheid. Mijn hormonen houd ik daarom goed in de gaten omdat een geoliede hormoonhuishouding zorgt voor een gezonder en fijner leven. Inmiddels weet ik daarom precies welke dagelijkse producten impact hebben op onze hormoonhuishouding en vandaag schrijf ik over beauty & verzorgingsproducten die ik momenteel graag via BEAUTSY aanschaf.
Er wordt steeds meer bekend over de impact van beautyproducten op je gezondheid. Niet het beautyproduct zelf maar de EDC's (Endocrine Disrupting Chemicals) in het product stagneren de werking van je hormonen. Parabenen zijn bijvoorbeeld chemicaliën die de houdbaarheid van producten verlengen maar ze kunnen ook voor een ontregelde hormoonhuishouding zorgen. Dit komt omdat parabenen in staat zijn om zich te gedragen als oestrogenen en daardoor raakt het lichaam in de war. Xeno-oestrogenen of nep-hormonen zijn stoffen in het milieu, afkomstig uit de petrochemische industrie, die niet eenvoudig door het lichaam afgebroken worden. Wanneer je veel van deze xeno-oestrogenen binnenkrijgt, stapelt het zich op in vetweefsels, voortplantingsorganen, hersenen en de lever. Dit heeft als gevolg dat deze belangrijke onderdelen van het lichaam niet meer goed functioneren en dat uit zich in allerlei vage klachten.
Helaas zitten de EDC's in veel cosmetica en verzorgingsproducten maar vrees niet: het is vrij eenvoudig om deze schadelijke indringers te omzeilen. Er zijn namelijk een aantal voorlopers in beautyland die zich puur en alleen richten op clean beauty zoals de online shop BEAUTSY.
Ingrediënten in jouw beautyproducten zijn vaak onbegrijpelijk en moeilijk te ontcijferen. Logisch dat je er in de meeste gevallen vraagtekens bij hebt. Daarom biedt BEAUTSY alleen maar cleane beauty producten aan die transparant zijn tot in het kleinste detail en geen bullshitingrediënten bevatten die jouw huid alleen maar kwaad kunnen doen. De producten zijn knapper dan de meeste op de markt en misschien ook iets prijziger. Dit neem ik op de koop toe omdat een goede gezondheid niet te koop is. Bovendien kun je de wat duurdere bedragen prima compenseren door een lipstick minder te kopen of door kokosolie als gezichtsreiniger te gebruiken. In de regel denk ik altijd: Ik smeer alleen op mijn huid wat ik in mijn mond durf te stoppen.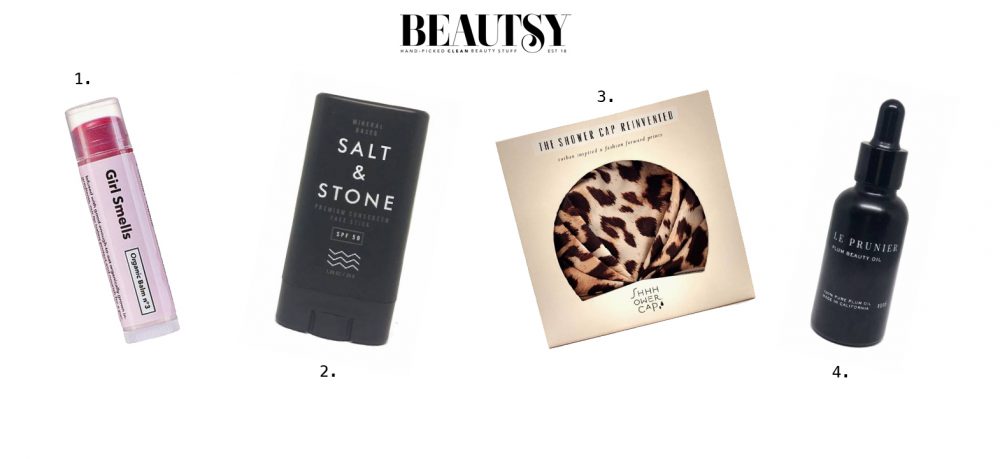 1. Girl Smells Tinted Nourishing Lip Balm, €16 via BEAUTSY
2. Salt & Stone Face Stick SPF 50, €20 via BEAUTSY
3. Shhhowercap's douchemuts, €40 via BEAUTSY
4. Le Prunier Plum Beauty Miltipurpose oil, €90 via BEAUTSY