Vrouwen met een hoedje zijn sterk en creatief
De etiquette van de hoed is veel vrouwen onbekend. 'Wanneer draag ik nou een hoed?' denken veel van ons. Eigenlijk kun je iedere dag een exemplaar op je hoofd zetten. Hoeden zijn niet alleen voor "rouwen of trouwen" maar je kunt ze, als je je daar goed bij voelt, dagelijks dragen.
In de zomer beschermt een hoed je hoofd tegen de felle zon, in de winter houd de hoed jouw hoofd warm. Voor ieder seizoen een andere hoed! Toch zijn er bar weinig vrouwen die zich aan een hoed wagen. Terwijl júist de stijliconen er bijna dagelijks mee in beeld verschenen. Denk aan Jacky O Kennedy, Sophia Loren, Marilyn Monroe en tegenwoordig onze eigen koningin Maxima! Allemaal vrouwen met een voorbeeldfunctie.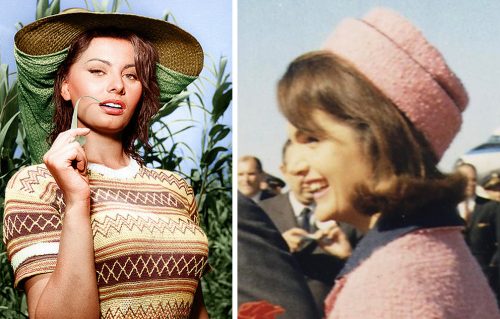 Hoeden bij een speciale gelegenheid:
Bij een dresscode kan ook een hoed horen. Dit zijn de meest bekende:
-Tenue de ville: een hoed is niet verplicht maar het mag wel.
-Jacquet: dames moeten een hoed dragen.
-Black tie: Vrouwen dragen fascinators. Dit zijn speelse hoofddeksels die perfect bij een cocktailjurk passen.
-White tie: bij de galajurk hoort ook een fascinator. Een andere hoed is niet gepast.
Belangrijk dan het soort hoed is of de hoed bij jou past. Hij moet als gegoten zitten en je moet hem met plezier dragen. Een té grote hoed heeft al snel iets carnavalesk. Het is belangrijk dat de hoed flatteert en dat je je er goed bij voelt. Voor vrouwen geldt: je mag een hoed altijd ophouden. Mannen moeten hem afzetten bij speciale en officiële gelegenheden. In de avond is het wel gepaster om een kleine hoed te dragen, de grote hoed dient immers als bescherming tegen de zon en die is 's avonds verdwenen. Kies de juiste hoed bij de juiste gelegenheid. Op de rode loper verschijn je niet met een beanie. En een pet in combinatie met een galajurk? Das ook niet fraai.
Vrouwen met een hoed hebben smaak
Ze durven op de vallen en weten welke hoed bij de rest van hun outfit past.
Ze zijn klassiek
De hoed hoort in een klassieke garderobe thuis, al zijn er tegenwoordig ook veel bohémien exemplaren.
Het zijn zelfstandige types
Goed gemutste vrouwen zijn zelfstandig, ze weten wat ze willen en gaan ervoor.
Ze vallen op
Met hoed ben je nu eenmaal beter in beeld. Vooral omdat er tegenwoordig niet zoveel vrouwen een hoed dragen.