Een bleke huid in de zomer? Deze romantische zachte kleurtjes staan fris
Het is zomer en dit betekent dat je veel bruine koppies ziet. Sommige vrouwen hebben van nature een bruin getinte huid, anderen liggen uren te bakken in de zon. Dit laatste is niet best, want deze dametjes hebben over een paar jaar een verrimpelde huid. De zon is een van de grootste oorzaken van huidveroudering en gelukkig zijn er steeds meer vrouwen die het 'bleker' zijn voor lief nemen.
De zon en de zonnebank zijn prima maar niet te vaak. Bovendien ziet een huidskleur er vaak onnatuurlijk en vochtarm uit als je veel in de zon zit. Dat is jammer. Een witte huid is chic en mooi maar je wilt er niet moe of ziekjes uitzien. Met de juiste make-up creëer jij een hartstikke mooie bleke zomerse look!
Blush
Wanneer je een lichte huid hebt wil je met make-up iets meer kleur creëren in je gezicht. Een blush is dan dé tool om kleur te krijgen in je gezicht. Zonder blush ga ik de deur niet uit. Persoonlijk kies ik voor een roze blush, dit zorgt voor een mooie frisse blik. Met een speciale Cheek Colour Brush breng je de blush stukken mooier aan. Gebruik deze tool dan ook als je je wangen kleurt! De medium afgeronde kwastkop zorgt ervoor dat het product zacht en gelijkmatig kan worden aangebracht waardoor je niet té rode wangen krijgt.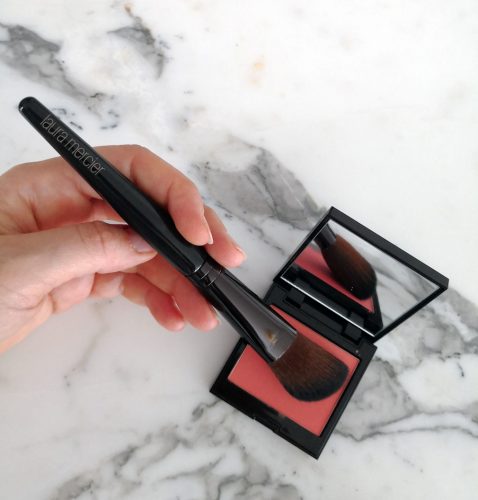 Voor de mooiste tint blush kun je je het beste laten adviseren. Ik ga dan het liefst naar Skins Cosmetics omdat de sfeer fijn is, je goed geholpen wordt en de producten van Laura Mercier mijn favoriet zijn. Ik mag bijvoorbeeld best een fellere roze tint op mijn wangen hebben, als ik het maar goed aanbreng en verdeel.
Cheek Colour Brush, €45 Laura Mercier
Ogen
Gebruik geen donkere, harde kleuren als oogschaduw. Dit maakt je alleen maar bleker. Je kunt het beste aardetinten gebruiken. Lichtroze is ook een goede optie! Dit maakt je zachter en je oogkleur komt beter naar voren.
Sateen Eye Color, €27 Laura Mercier via Skins
Lippen
Kies voor een nude, peachy of bruinachtige lipstick, deze passen het beste bij jouw huidskleur! Té felle kleuren kunnen hard afsteken maar rode lippen zijn ook erg sexy bij een bleke huid.
Bronzer & foundation
Als je het gebruikt, geldt weer hetzelfde verhaal, laat je adviseren. Met een bleke huid zie je er al snel té bruin uit. Bronzer is met een bleke huid ook tricky, het lijkt al snel of het bovenop ligt! Roze blush is een beter alternatief.