Deze nieuwe middelen maken het huishouden runnen een stuk aantrekkelijker
Schoonmaken is niet echt ons ding. Een schoon huis daarentegen vinden we fantastisch. Een ingewikkelde combinatie want voor een opgeruimd huis moet je toch echt schoonmaken. Zeker nu we veel meer tijd in huis doorbrengen, is een schoon huis een must. We willen niet afgeleid worden door rondslingerende troepjes of een vieze vaat.
Een opgeruimd huis zorgt voor meer rust in je hoofd. Bovendien is het zo slecht nog niet om in deze tijd regelmatig grondig schoon te maken: op deze manier beweeg je nog een beetje. Er wordt zelfs gesteld dat je met vier uur poetsen zo'n 953 calorieën verbrand. Stel je verdeelt deze uurtjes over de week, dan is zelfs de sportschool overbodig!
Schoon spul
Om je schoonmaak motivatie te triggeren, hebben wij twee (vrij nieuwe) lanceringen op een rij gezet. Middelen die helpen om de was of het aanrecht schoon te krijgen en die er ook nog eens knap uitzien. Ja. Het oog wil natuurlijk ook wat.
BDK wasmiddel
Dit wasmiddel riekt ongelofelijk lekker en dat is niet gek gezien het ontwikkeld is door Parfums BDK, een parfumhuis waar ze met het pientere idee kwamen om een wasmiddel te lanceren. De sensueel verslavende geur is hout- en muskachtig en geschikt voor alle soorten wasgoed, van lichte tot donkere kleuren. Ook belangrijk: het middel is geheel ecologisch en biologisch, ontwikkeld door onafhankelijke ambachtslieden uit de Provence. Dan weet je het wel…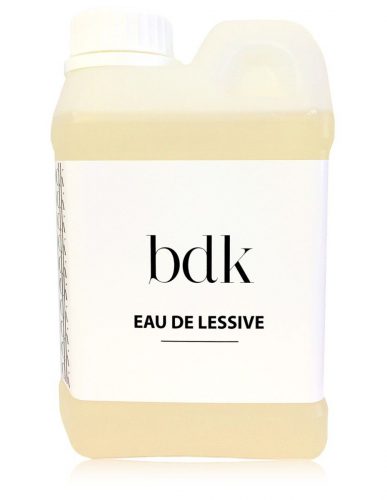 Eau de lessive, €30 via RETREAT
Kinfill
Nog zo'n schoon ontwerp! Kinfill is ontwikkeld op Nederlandse bodem en zacht voor jou én de planeet. Wij zijn verliefd op de Forever fles die je (whats in a name) altijd na kunt vullen met een van de navullingen. De schoonmaakproducten zijn er voor de badkamer, glas en spiegels en er een een allesreiniger.


Je koopt de producten van Kinfill via Skins Cosmetics